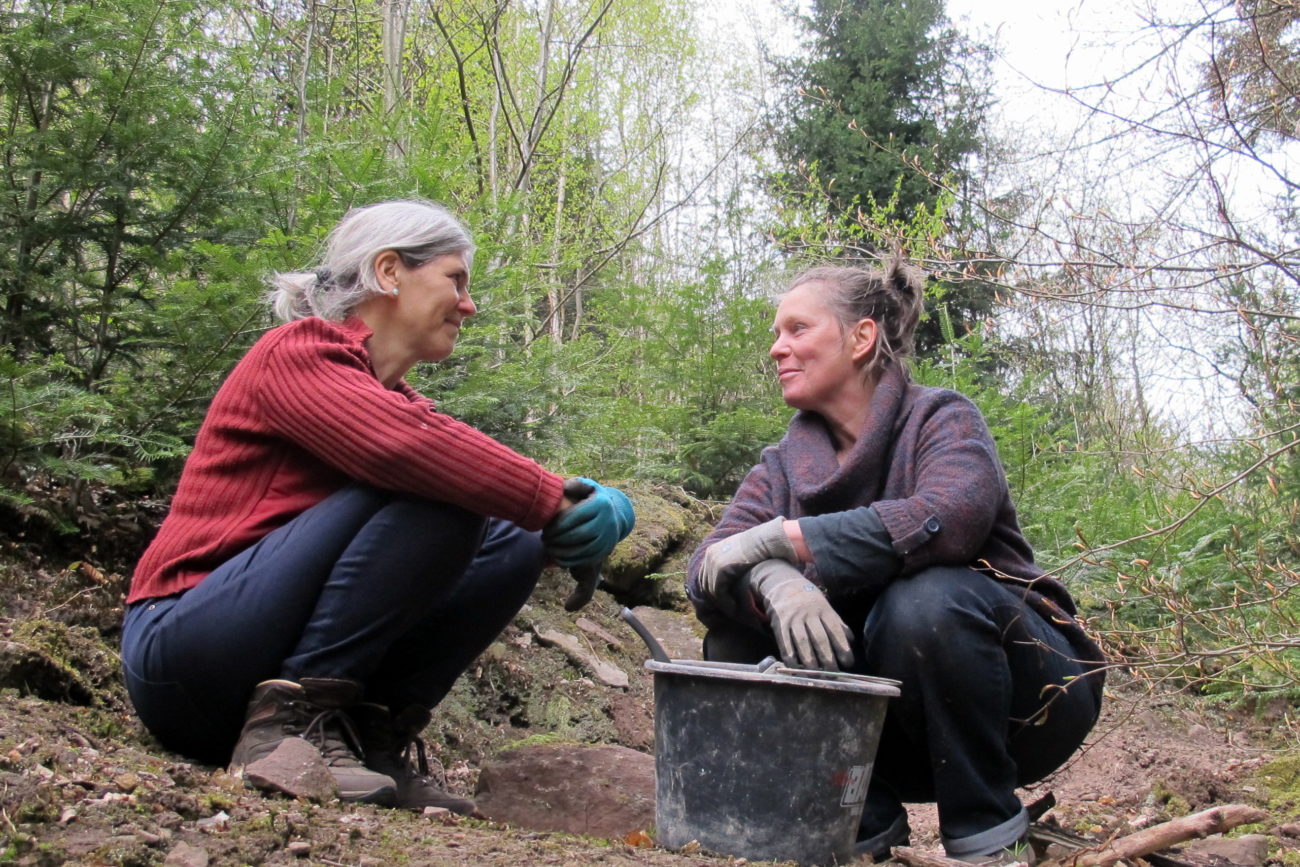 Katherina Bornefeld und Mimi van Bindsbergen
Introduction
Katherina Bornefeld, * 1961, Schorndorf, Germany, musician and drummer since 1983 with the internationally known Dutch band "The Ex" with almost 2000 concerts. She did various training as a healer (massage, sound massage, gem therapy, Reiki, shamanism). She is living in Kyllburg since 2018.
In her work she searches for the original life energy in order to let it flow freely and to serve as inspiration for people. For her it's important that people become authentic again, work together on common goals, free themselves from restrictive thought patterns and take their own life into their own hands as their own captain on their own ship, harmoniously and in harmony with nature.
Mimi van Bindsbergen, * 1965, Babberich, Netherlands. Is living and working in Malberg since 2018. The focus of her work is painting, (nude) drawing and etching.
In her pictures the artist shows the landscape as a memory and how people move in it.
Katherina und Mimi started a cooperation in 2020 that unfolds in and with nature. Drawings, photos, videos, poems, stories and musical sounds and compositions are created that give shape and face to this exchange and are to be published later. For the Kyllburg art route, works of art inspired by nature were created in two places in the forest, which, thanks to their shape, invite you to immerse yourself in a deeper understanding of the interplay between man and nature.
Tinder Fungus (2022)
Inspired by tinder fungus (elf benches) in the forest, Mimi has found the ladies of de shop-in-shop knitting cafe prepared to knit a whole range of colourful mushrooms this spring. Their number is likely to increase during the summer in various places in the Stadtpark Hahn
The Wings (2022)
Insects and birds have wings with which they can fly great distances. They are a symbol of freedom, mobility and expansion. In this creation, the wings serve as an abstract form for an idea. The idea of hope that man will once again respect nature, value it as the basis of his life and protect it accordingly. That this idea will get 'wings' and spread rapidly around the world.
It is about the attention and care we must give to nature and insects. The importance of insects for our ecosystem, our food and our health.
This is in line with the insect project for the KITA children from Kyllburg. The children painted insect shapes on stone and made antennae, legs and wings with iron wire. By talking about the function of insects and looking at photos and drawings of different insect shapes, an awareness of the importance of insects arises.
Die Verbundenheit (2021)
Nature automatically shows the form of energy that is present. Two large trees side by side, one of which has roots turning left and the other turning right. Scattered stones that are laid in such a way that they show these turning movements. These two movements come together between the trees. The masculine and feminine energies are connected to each other.
The compass showed us that this place (as seen from the path) is exactly in the north, where the end and the new beginning, the eternal, come together and merge.