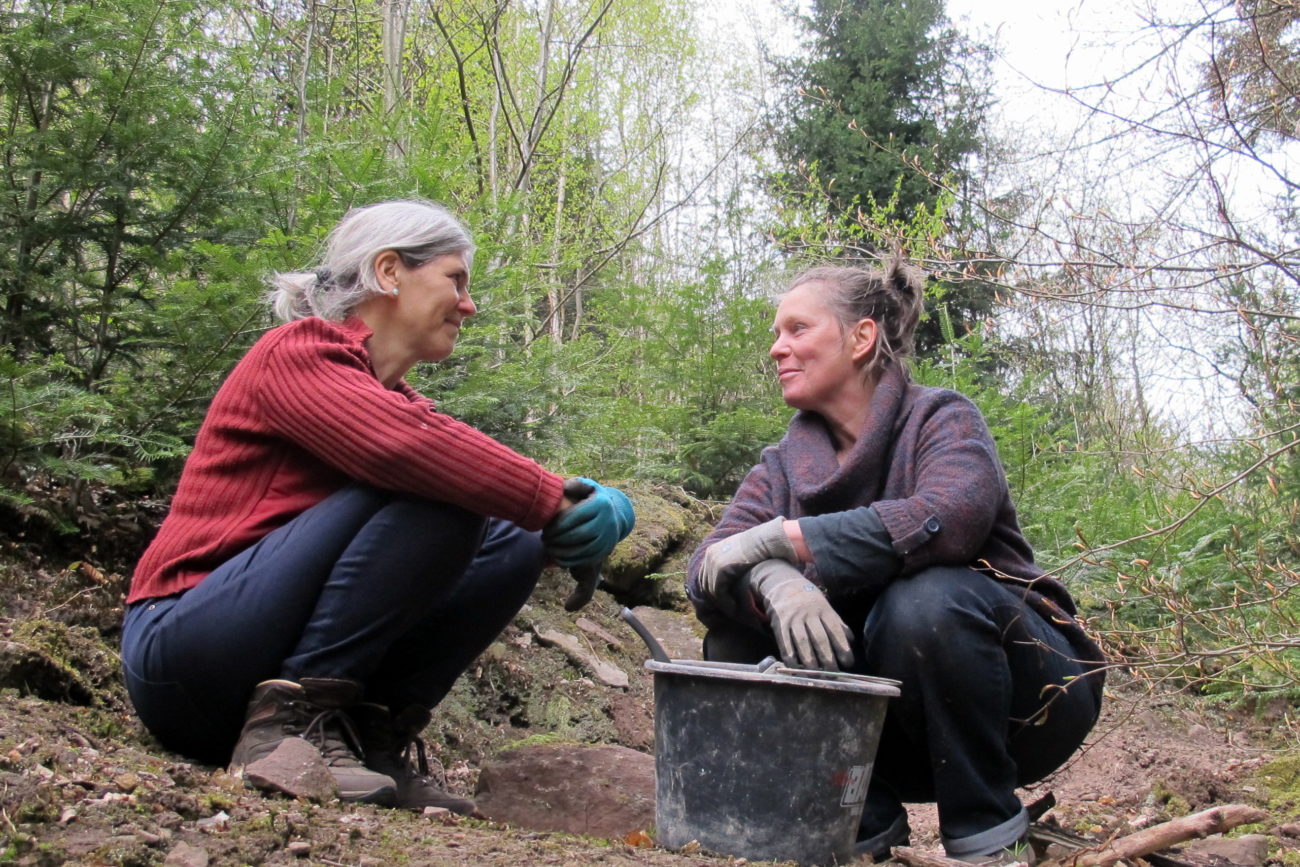 Katherina Bornefeld und Mimi van Bindsbergen
Introduction
Katherina Bornefeld, * 1961, Schorndorf, Germany, musician and drummer since 1983 with the internationally known Dutch band "The Ex" with almost 2000 concerts. She did various training as a healer (massage, sound massage, gem therapy, Reiki, shamanism). She is living in Kyllburg since 2018.
In her work she searches for the original life energy in order to let it flow freely and to serve as inspiration for people. For her it's important that people become authentic again, work together on common goals, free themselves from restrictive thought patterns and take their own life into their own hands as their own captain on their own ship, harmoniously and in harmony with nature.
Mimi van Bindsbergen, * 1965, Babberich, Netherlands. Is living and working in Malberg since 2018. The focus of her work is painting, (nude) drawing and etching.
In her pictures the artist shows the landscape as a memory and how people move in it.
Katherina und Mimi started a cooperation in 2020 that unfolds in and with nature. Drawings, photos, videos, poems, stories and musical sounds and compositions are created that give shape and face to this exchange and are to be published later. For the Kyllburg art route, works of art inspired by nature were created in two places in the forest, which, thanks to their shape, invite you to immerse yourself in a deeper understanding of the interplay between man and nature.
We, Katherina and Mimi, react to what the place wants to tell us.
'Accidental' finds, discoveries, observations. We collect the material we work with. On the grounds of 'Das Echo' a bird house that was found showing its face and a tree in the shape of a tuning fork.
Similar shaped branches lying in the vicinity, which are carefully gathered and reinforce the message of the tuning fork tree. Set into the ground at a certain distance from each other, connected in a line with the mouth of the face. The way from the mouth to the last tuning fork is the echo, the echo of dreams, stories, ideas and deepest wishes that want to be passed on and transformed. The repetitive and growing resonance becomes a pattern, a force.
Nature automatically shows the form of energy that is present. Two large trees side by side, one of which has roots turning left and the other turning right. Scattered stones that are laid in such a way that they show these turning movements. These two movements come together between the trees. The masculine and feminine energies are connected to each other.
The compass showed us that this place (as seen from the path) is exactly in the north, where the end and the new beginning, the eternal, come together and merge.